Rebates We Offer
Tax Credits, Incentives & Savings
Water Heater Rebate

---
Amount: $300.00 to $375.00
Description:
New Mexico Gas Company offers rebates from $300 to $375 when you have a licensed and insured participating contractor install a high efficiency, ENERGY STAR certified tankless water heater in your home. Visit the ENERGY STAR website for a list of eligible models.
Energy and money savings.

Cut your water heating costs up to 30% and save as much as $50 per year on gas bills compared to a standard model.

Continuous hot water. Tankless water heaters provide a continuous flow of hot water, so even the last one out of bed gets a hot shower!
Space-saving design. Small and wall-mounted, tankless water heaters can save a closet's worth of space in your home.
Fewer worries. Tankless models have a longer life expectancy, plus the risk of tank leaks and water damage is a thing of the past.
Save from $300 to $375 with a rebate on your purchase when you use a licensed and insured participating contractor. Only customers who receive natural gas service from New Mexico Gas Company, as evidenced by the New Mexico Gas Company residential customer account number, are eligible.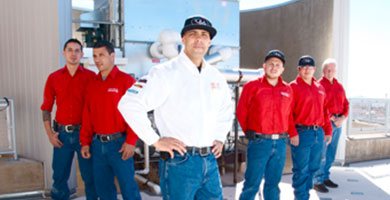 ---
Energy Bill Savings Tips
Ensure your heating system is warming your home at optimum levels when you want it. Here's how you can save:
Routine system inspections
Sealing of vents and duct work
Proper duct, window, vent and home insulation
Adjustment of gas pressure
Routine cleaning and servicing of HVAC motor, exchangers and coils
Implementation of zoning systems
Maintaining a clean blower
---