Rebates We Offer
Tax Credits, Incentives & Savings
Furnace Rebate

---
Amount: $200.00 to $375.00
Description:
New Mexico Gas Company offers rebates from $200 to $375 when you have a licensed and insured participating contractor install a high efficiency gas furnace with an annual fuel utilization efficiency (AFUE) rating of 90% or higher in your home.
Energy and money savings.

A high efficiency gas furnace is at least 12% more efficient than standard models, so you'll save on energy costs year after year.

Enhanced comfort. Models with AFUE ratings of 90% or higher can help you save energy and money while improving the comfort of your home.
Improved safety. High efficiency gas furnaces are designed to reduce the risk of backdrafting dangerous carbon monoxide exhaust into your home.
Increased durability. Designed with advanced technologies and high-quality components, these systems often last longer and have longer warranties than standard models.
Rebates available. Get a $200 to $375 rebate when you use a licensed and insured participating contractor to install your new high efficiency gas furnace. Only customers who receive natural gas service from New Mexico Gas Company, as evidenced by the New Mexico Gas Company residential customer account number, are eligible.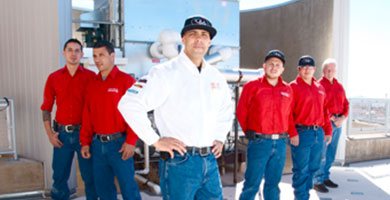 ---
Energy Bill Savings Tips
Ensure your heating system is warming your home at optimum levels when you want it. Here's how you can save:
Routine system inspections
Sealing of vents and duct work
Proper duct, window, vent and home insulation
Adjustment of gas pressure
Routine cleaning and servicing of HVAC motor, exchangers and coils
Implementation of zoning systems
Maintaining a clean blower
---